Thank you for all of your notes of support and requests for updates. It truly does help to feel all of that support and caring out there.
I've spent the past two days waiting for an update myself as I had to take care of business in New York. Once I fixed the world economy, I returned home to a vastly recovered Spike. His time with Aunt Ann went very well for everyone (except the uncles - they are toast in Spike's book now).
Spike is now happy, alert, active and, importantly, inquisitive once again. One thing that Ann noticed is that Spike would often talk with his expansive vocabulary and then stop and say that he didn't really know what a particular word meant. He would then wait until someone defined it and then carry on. He must have done that twenty times today with me. It wasn't that he had forgotten a word or used it in the wrong context. He simply wanted to know the precise definition before he used it again.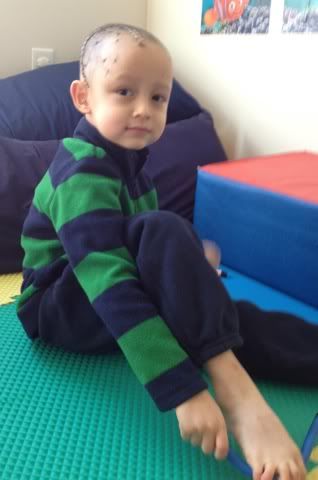 Spike also surprised me today by reading words off of some of his video games. At first I thought he was just remembering them from repetition but then I saw him phonetically work out new words. This is something he started over a year ago but completely lost interest in during the dark days. His lack of interest in reading had bothered me but I knew that kids progress at very different speeds as readers so I just sort of let it go. He seems hungry for the knowledge now.
Speaking of hungry, he's an animal at the dinner table. Spike has never showed much interest in food but now he is a chowhound. I expect a growth spurt any minute now.
His coordination and strength are improving every day. He still has to think about using his left hand but, with concentration, he can use it effectively. He starts physical therapy next week and I am confident that will further speed his recovery.
By most indications, he is on his way to a full, seizure-free recovery.
Most...
Unfortunately, Spike is also beginning to show, at least to his hyper-aware parents, some troubling signs. Certain twitches in his forehead and occasional odd looks on his face trouble us. These are not things anyone else would likely notice but we came to know all the signs of seizure activity extremely well. We could tell what an EEG would look like before they even turned it on. Now we have not seen anything that looks like a seizure but we are fairly certain that he would not show a normal EEG pattern today. That's not unexpected but, of course, it is troubling.
Spike tells me that he feels much better now than before the operation. When prodded for specifics about anything that feels odd, he refers only to his stitches (which come out next Monday). Of course, I will continue to watch him very closely but there really isn't anything I can do about potential abnormal activity in his head. In fact, the best course of action at this point is to simply enjoy having him back and help him regain strength.
On the topic of regaining strength, I am going to try and build up some reserves myself. If the seizures returned tomorrow, I just don't know how I could handle it. I need to get myself back to a physical, mental, emotional and even financial state where I can handle whatever happens. For me that means running a 5K tomorrow (that's gonna hurt!), immersing myself in work and, very importantly, spending some time on the water. Of course, enjoying time with Spike and Emily (when she's not too busy jet setting around the world!) builds strength faster than anything.
As always, thank you for everything. You have all been part of the team that's helped me keep going. Let's hope that all my future posts will continue to report on Spike's growth and good health.