Everybody enjoys a walk in the park with their kids on a perfect autumn day but no one more so than me, taking walks that I feared would never happen again.
While Spike continues to show no interest in leaving the house, once I actually get him outside, he has a great time. While his physical therapy seems to be working well, he remains hesitant about climbing in the playground. I think that has more to do with nervousness about other kids flying around than it does with his own abilities. He justifiably remains tentative about his balance and strength. Worrying about someone suddenly running past him while he crosses a swinging bridge or pushing him aside as he gets ready to go down a slide takes the fun out of the playground. So when I get him to a park now he immediately wants to walk through the woods - which is just fine with Dad!
On Sunday, I took him to Bond Park in Cary. Aside from getting him outside, I wanted to walk a bit of the course that I will race next weekend. I knew that we wouldn't be able to walk the whole three miles but figured I would at least get a sense for the course. As it turns out, it's going to take more than three miles to tire out the new Spike! While we didn't walk the course, we did spend more than two hours walking everywhere else. Up and down hills, across the dam, through the woods, along the docks - we did it all and he left asking for more as the sun began to set. That's when I realized that Spike has once again become what we've all wanted all along - a normal kid.
Now that Spike has returned to this blissful state of normality, continuing his blog would be the self-indulgent crowing of a proud papa. Which, of course, doesn't mean I won't do that! However, I have decided to cut back on the frequency of updates so as not to bore everyone with the minutiae of the daily life of a four year old and to give myself more time for other writing.
I originally started this blog with the sole intent of updating my family on Spike's medical issues. So much was going on with him that I had little time or energy to update everyone individually with e-mails and phone calls so I figured that posting a quick update once a day was simply efficient. The blog turned into so much more. For one thing, the audience quickly expanded far beyond my family to include several hundred people scattered all around the world. These ramblings have now been viewed over 10,000 times by people who care deeply about Spike even though they might never meet him. The e-mails I receive continue to brighten every day for me. From my selfish point of view, the blog gave me a refuge from the hospital during those most stressful times. Even if I was writing while sitting next to Spike's bed in the ICU, I could escape, mentally and emotionally, while remaining present physically to handle whatever might come up. Most importantly, I felt the caring and support from everyone who followed Spike. That helped more than you can know. As I have said before, no matter how strong and independent you think you are, if you find yourself overwhelmed by a crisis and someone offers help and support - TAKE IT. Thank you all for the many ways you have helped me, sometimes by simply being out there and listening.
I will post updates at Christmas, on Spike's birthday in February and whenever he reaches major milestones in his recovery. If there are major setbacks, which there won't be, you will hear about it here.
Enough words! I will give you something far better now. A little walk through the park with Spike.
Who wouldn't want to take a walk with a normal little four year old?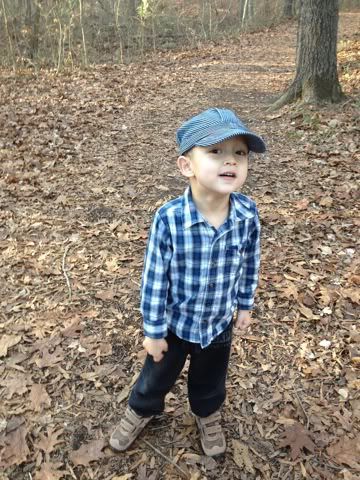 Of course, "normal" can mean just about anything at that age. A nice quiet walk in the woods, watching deer and picking up sticks can quickly devolve into an air guitar solo from Rock Star Spike!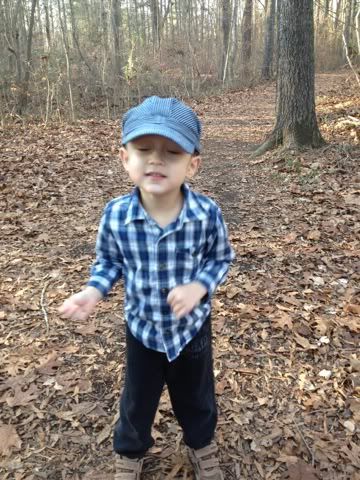 Once he hears that beat in his head, can you blame him for breaking out in dance?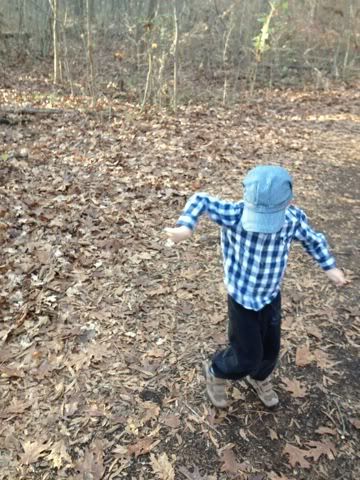 It's all fun and games until he threatens the paparazzi with stick. For people who crave the spotlight, rock stars can be so unreasonable when fans want a photo.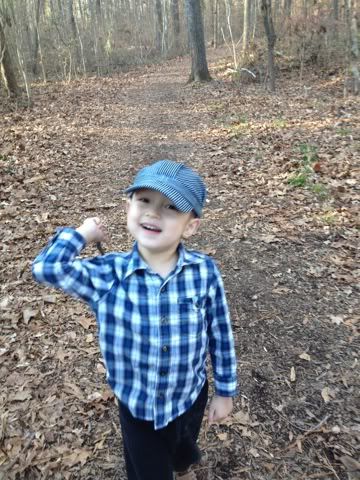 Only one thing to do then - tie them to a post until they clean up their act. Spike blamed his violence on the drugs. Yeah, they all do that.
Just when you think you've rehabilitated the criminal, you find him carrying a weapon! The shadows do not lie - look at that right hand!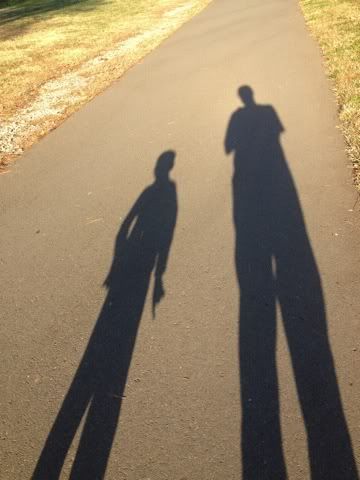 Busted!
Yes, he's a little devil and here's the proof.
But that music in his head will just not be silenced.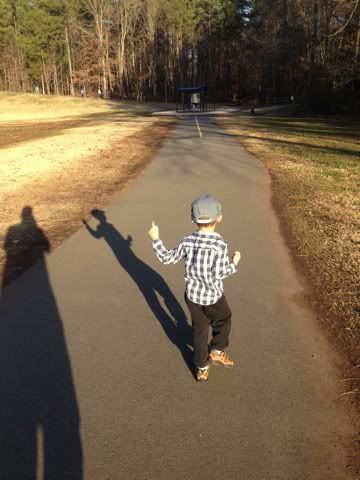 This time he locked himself to the post and claimed he lost his "arm key" so we couldn't leave the park.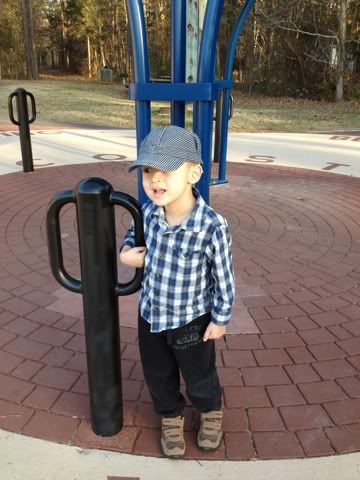 He then decided that being in the park was a vital part of his physical therapy regimen. Hard to argue with that so we stayed a little longer.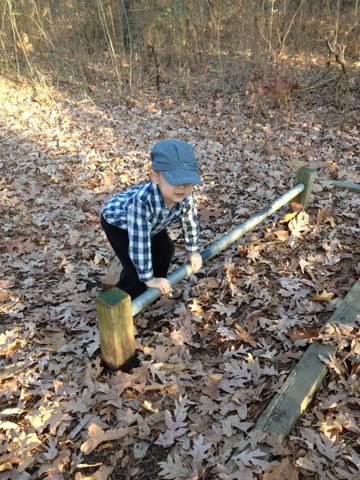 Thank you all for walking with us through Spike's entire journey. Now that his medical adventure is over, it's time for him to walk into his future, under his own power thanks to the skilled hands of a surgeon, with the support and love that all of you have shown.